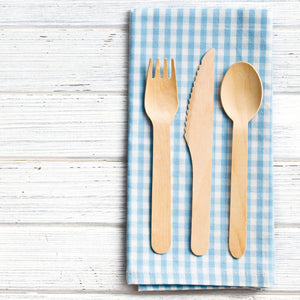 Disposable Wooden Cutlery | 250pc Set w/100 Spoons; 100 Forks; 50 Knives | Great for Parties
Sale price Price $ 29.98 Regular price
Set Includes 100 Forks, 100 Spoons and 50 Knives
★ NATURALLY BEAUTIFUL UTENSILS ★ With Posh Earth's Wooden Cutlery, you'll be ready to enhance the look of your next celebration with the chic effect and functional design. Made of birch wood and constructed for use, you can dress them up with stamps or washi tape to make them your own or leave them as is for a simple, natural look.
★ MULTI-USE for PARTIES or CRAFTS ★ This Disposable Wooden Cutlery Set can be used for a variety of purposes: Use them for special occasions such as weddings, luncheons, holiday parties, picnics, kids' parties, showers, receptions, family get-togethers or get creative and use with kids' crafts!
★ CONVENIENT, ECO-FRIENDLY & PERFECTLY SIZED ★ With each utensil measuring 6" in length, they are similar to using regular silverware, but with the convenience of disposing after use. They are non-toxic and made of compostable wood.
★ FUNCTIONAL, DURABLE & WELL-MADE ★ Our forks, spoons and knives are designed to for eating a variety of foods including meats, salads, hearty stews, fruits and desserts. They are attractive yet practical for candy bars, popcorn bars or ice cream bars.
★ GUARANTEED ★ We stand by our products, and for that reason, we offer a full 30 day MONEY BACK GUARANTEE!! See how well these work for you, and if you're not satisfied, just send them back our way, and we'll issue you a refund, no questions asked.