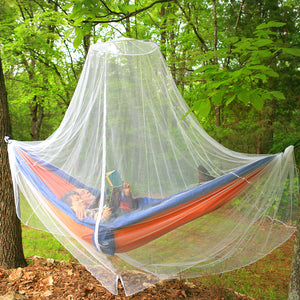 Mosquito Net Bed Canopy with Zipper Opening | Round Canopy with Extra Bug Protection | Great for Outdoor Use
Sale price Price $ 22.95 Regular price
☼ NATURALLY PROTECTED REST ☼ Posh Earth Mosquito Nets keep you safe from pesky and harmful insects such as Mosquitoes, Ticks, Beetles, Flies and Spiders. With no chemicals and tightly woven mesh fabric, you can sleep peacefully with proper air circulation and comfort knowing you have a shield against annoying bugs.
☼ UNIQUE DOUBLE-SIDED ZIPPER CURTAIN with EASY ENTRANCE ☼ The natural mosquito repellant screen netting is designed to stay in place while you rest with our new zipper design. No more waking up without your netting around you! You can zip the net from the outside when keeping bugs away from kids or zip from the inside when you are protecting yourself.
☼ COMPACT, PORTABLE and LIGHTWEIGHT ☼ Although the net itself is large at 8ft tall with a 33ft base and fits around a King size bed, it folds up with the convenient pop-up ring to gather the net quickly and easily into the included free travel pouch. This makes traveling with the net suitable for camping and other vacation needs.
☼ QUICK and EASY HANGING ☼ Our round canopy net has a one point hanging feature with no assembly skills required. You just put the anchor and hook into the desired location and place the ring into it; your net is ready for use! We have included two anchors and hooks so you can choose which works best for you.
☼ 100% MONEY BACK GUARANTEE ☼ We want you to be a satisfied, protected customer!!! If you are unhappy with your purchase, please contact us within 30 days, and we will refund you your full purchase amount!