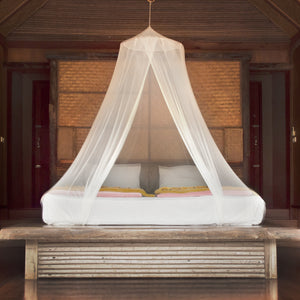 Premium Canopy For Beds | White Mosquito Netting for Teen Girls Bed | Princess Canopy | Free Hanging Kit and Travel Pouch
Sale price Price $ 37.95 Regular price
★ SUPERIOR PROTECTION w/SMALLEST HOLES ★ Posh Earth™ Mosquito Nets keep you safe from pesky and harmful insects such as Mosquitoes, Ticks, Beetles, Flies and Spiders. With no chemicals and tightly woven screen netting (285 holes/in2), you can use this mosquito net for camping and sleep peacefully with proper air circulation and comfort knowing you have the best shield against annoying bugs.
★ ROUND CANOPY with OVERLAP ENTRANCE ★ The natural insect repellent mosquito net for bed is designed to be closed or spread open easily. With a round top, the canopy curtains can drape around an object or overlap for a protective shelter. Use it as a canopy mosquito net for cribs, glamping net or anytime you need insect netting over your hammock, camping or outdoor area.
★ QUICK and EASY HANGING ★ This round princess canopy has a one point hanging feature with no assembly skills required. You just put the anchor and hook into the desired location and place the ring into it; your own mombasa canopy net is ready for use! We have included two anchors and hooks so you can choose which works best for you.
★ LARGE, COMPACT, PORTABLE and LIGHTWEIGHT ★ Although the net itself is large at 8ft tall with a 33ft base and fits around a King size bed, it folds up with the convenient pop-up ring to gather the net quickly and easily into the included free travel pouch. This makes traveling with the net suitable for camping and other vacation needs.